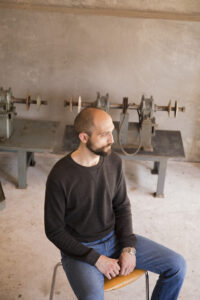 Edu Tarín (Valencia, 1984). The son of jewellers, he trained in the family workshop, taught by his father, Eduardo Tarín Ruiz. In 2008 he started his artistic jewellery studies at the EASD in Valencia and in 2012 gained his degree from the University of Applied Sciences in Trier, Dept. of Jewellery and Precious Stones Design in Idar-Oberstein, Germany. In April 2015 he graduated with a Master's in Fine Arts from the same department.
Process
In this process, each pendant has been traditionally hand-carved from a single stone. Once the pendant is completed, two 3D scans are made: one of the pendant and another one of the rough stone. Once this process is complete, I can create a CNC mechanical engraving of the pendant negative on the natural stone. The pendant is thus partially inlaid into the rough stone, creating a relationship between processes and stages through technique and materiality. A reflection on what it was and what it has become, what it seems and what it is.
Click on image for further information.