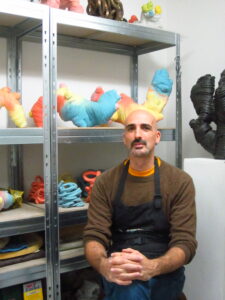 Eusebio Sánchez (Málaga, 1979) is an artist from Marbella who is now based in Brighton. In 2017, he graduated with an MA in Ceramics and Glass awarded by London's Royal College of Art. Eusebio won the Fresh Award in the British Ceramics Biennial in 2017. In 2018, he undertook an artist residency in Denmark, at the International Ceramic Research Centre. In 2019, he was one of the Craft Council's emerging talents for the 'Hothouse' programme and was a finalist of Emerging Makers Award at the ceramics festival in Aberystwyth (Wales).
Process
My practice involves creating sculptures with the coiling method. I choose to display the coil to unearth the process, which is often concealed in most of the ceramic pieces sculpted with this method. I celebrate this process and the history of ceramics and artefacts. I find inspiration in early primitive clay forms from the Japanese 'Jōmon' period, and my creative strategy is inspired by the Bauhaus.
Click on image for further information.