Mercedes Vicente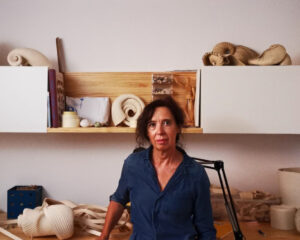 Mercedes Vicente (Madrid, 1958). I started my artistic training by attending the ateliers of prestigious national and international artists. My earliest works were pictorial but evolved towards a kind of sculptural painting I made from nylon fabric suitable for constructing pictures or objects that would have transparency and movement as their principal features. Later, canvas was the material chosen for my sculptures due to its ubiquity. Strips of canvas were rolled up and gave rise to my spirals.
Process
I started developing my technique in 2008. It is a tough process of preparing the textile material to give it constructional properties. To assemble the figure, the strips are glued to each other. This process is the basis for making the fabric behave like a skeleton, giving rise to a hard ventral part, the one that tensions the surface, and a thin dorsal one that expands to give rise to different designs.
Click on image for further information.