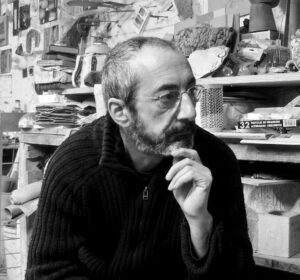 Rafael Pérez (Haro, La Rioja, 1957). He studied ceramics in the Escola Massana – Art and Design Centre – of Barcelona from 1978 to 1981. "Thereafter, I have spent my time at the studio and living life."
In 2007, he was elected as a Member of the International Academy of Ceramics, affiliated with UNESCO, and based in Geneva.
His work has been exhibited at galleries in Spain, Brussels, France, the United Kingdom, Portugal, the Netherlands, Germany, Croatia, and China, among other locations.
"My work is a game concerning and occupying me at the same time. I seek beauty, but it's more like a mood, a way of seeing things that allows me to experience both wonder and emotion."
My way of working is based on my personal "opened eyes" and "looking firstly" point of view. I try to transfer this sensation to my works, and I consider them good when opening the kiln I don't recognize the pieces as mine and I get surprised. Generally I work my sculptures with pastes that are prepared by me and fire at 1.150oc in mono firing. In these sculptures I work with two pastes lately. One of them expands and the other one (porcelain of low fire) is inert. With them the works before the firing are radically different to the final result. I try to keep a balanced relation with the fire. I mean the fire has to work by its own as I do, but finally we are a team.
Click on image for further information.