Ícaro Maiterena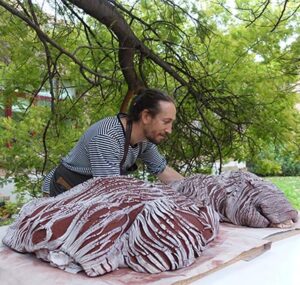 Ícaro Maiterena (Madrid, 1978) is a working artist who utilizes different artistic languages: video creation, experimental film, photography, installation, performance, scenography, sculpture, drawing, engraving, circus and dance. A member and co-founder of the Lisarco Collective. A graduate in Fine Arts from the UCM, he is a Higher Technical Specialist in Arts Applied to Sculpture. He is currently a ceramics professor at the Moncloa Ceramics School reporting to Madrid City Hall.
Process
The core generator of my creative process is contained in the act of kneading; in the action that coheres water with earth, softness with solidity; in an intimate and haptic reverie with ceramic paste. To knead is to perform a ritual gesture, the tactile prayer of the potter, a rhythm-filled vital act. A rhythm that takes up the whole body, rhythm accompanied by breathing. Ancestral movements with which we knead the oldest and least visible traces that can be thought of, where fossils of gestures asleep inside matter see the light and thanks to the action, to the contact, they awaken on their most external skin. Inhale, Exhale. Knead. Bring out what is inside, put in what is outside. Breathe. Find the magic of astonishment within the half-open fold of the kneaded clay.
Click on image for further information.