Rebeca Huerta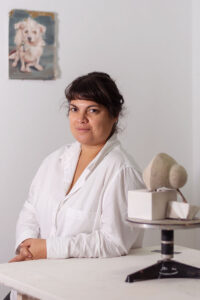 Rebeca Huerta (San Nicolás de los Garza. México, 1982). She graduated in the speciality of sculpture in the Degree studies of the Instituto Allende (2006) and attended a course in glass melting at the Pilchuk Glass School (2005). She moved to Zelezny Brod, where she studied in the glass cutting atelier of the SUPSS School (2007) and under the guidance of¡ Jaroslava Brychtová she collaborated with the Lhotsky s.r.o. foundry. Since 2016 she resides in Málaga, where she initiated the technical experimentation that gives shape to her ontological vision of the use of materials.
Process
In general, I visualize forms in the imaginary space and through drawing them I come to understand them, adjusting them to the physical principles and planning the strategies to concretize them: whether it will be a mould or clay or wax modelling and which material it will require. The series emerge from finding significant variations in a volume that correspond to structures of the thinking I am interested in exploring, like right now when I'm going deeper into determinist logic and the possibility of transformation as a compositional guideline.
Click on image for further information.