Nicholas Arroyave-Portela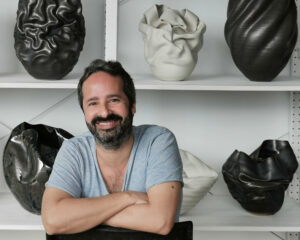 Nicholas Arroyave-Portela (Oxford, England, 1972). In 1994, after finishing his ceramic studies at the Bath College of Higher Education, he launched his professional career from his studio in London. Twenty years later, he moved to Barcelona to continue his ceramic practice, and he has lived and worked there ever since. His artworks can be found at important museums and private collections around the world, including the Ashmolean Museum (Oxford, United Kingdom), the Fitzwilliam Museum (Cambridge, United Kingdom), and the Philadelphia Museum of Art (USA).
Process
This artist starts his creations on the wheel using his own and unique technique. He pushes up as much clay as possible until the wall of the piece is reduced to the very minimum, so he can easily handle it while it is still soft and pliable. He does a first firing at 1,080 degrees, which sometimes includes a layer of liquid porcelain. He then applies enamel using a variety of methods such as spraying or pouring, and again fires the work at 1,260 degrees. Sometimes this last procedure is repeated a number of times to create layers with different enamels and textures, giving rise to a rich palette of shades and coatings.
Click on image for further information.