Luis Parades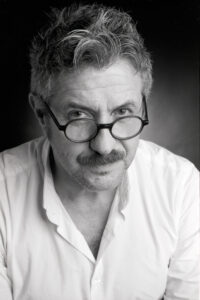 Luis Parades (Parades, 1964) is an outstanding sculptor in the practice of artistic glass blowing in Spain. His earliest steps, outside regulated training, were channelled towards the metal and glass industry and in 2003 he started his training in courses specializing in different glass-blowing techniques as well as experimental incursions into the material. In 2005 his first works were displayed in institutional centres such as the Exhibition Hall of the Granja de San Ildefonso. That same year, thanks to the advice of Steve Klein and Jonathon Schumck, he started developing a series of pieces that opened up the doors of the European market, where he became a notable presence at the prestigious Maison & Objet Fair in Paris, as well as in public and private institutions around the world. In the course of his career he has won numerous prizes and mentions.
Proceso
Luis Parades is fuelled by everything that surrounds him, and he makes the most of the possibilities offered by the tools and techniques he uses, which range from thermofusion, including the casting or kiln casting technique, to heat blowing, thermoforming and blown glass or melt blowing – roll-up.
The artist himself defines a creative, thoughtful and patient, almost hypnotic process while the glass fills up, melts… it attracts your gaze while it fuses and you wait; and in that moment it captures wind, cold, water, words; it catches time and takes photos of air and light until you finally sit down, behold it and feel it.
Click on image for further information.