Irene G. Barrera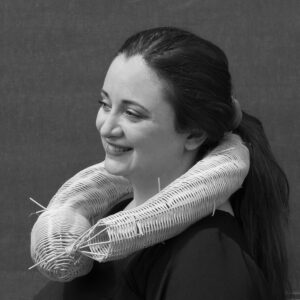 Irene G. Barrera (Santa Cruz de Tenerife, 1985). I moved to Barcelona in 2012 to study an Advanced Technical Diploma in Artistic Jewellery at the Massana School, where I won a Special Mention for my dissertation project, "Taxón", in 2015. That same year I was selected for "Talente 2016" (Munich). I returned to the Canaries and obtained the Tenerife artisan jeweller card in 2019.
I have taken part in several group shows featured in different galleries specializing in artistic jewellery in: Barcelona, Madrid, Athens, Switzerland, Portugal, USA, etc.
Process
I understand a "jewel" to be an enhancer of a person's essence, a message, amulet and armour all in one. I explore organic forms intuitively and through the need to work with hand gestures. I am interested in that which is not yet developed or that which has not started to crumble.
I use natural elements such as wood and reeds, combined with synthetic materials such as epoxy resin and cyanoacrylate. This leads me to experiment with both artisan and contemporary techniques.
Click on image for further information.