Hybrids Exploring Spanish artistic crafts
Hybrids Exploring Spanish artistic crafts
Artistic crafts are now a new field for reflection and exploration.
With a focus on emotional communication, these crafts are open to combine manual skills and the use of new technologies, reaching out to the expressive potential of new materials and the reinterpretation of traditional ones. These crafts open a new path in which the boundaries between art and design are blurred. Our intention at Espacio Intermedio is to explore and enhance the visibility of this transitional space.
This is the objective underlying this exhibition, a first approach to the range of contemporary artistic crafts in Spain. Hence, we present the artistic display of a group of artists-craftspeople, with diverse artworks, processes and approaches, whose works  can be framed  within this undefined territory where artworks and everyday objects meet.
(Process)
Craftwork involves a constant dialogue with materials. Objects do not only gain a meaning through their use. They also have a history born from the story of the materials themselves, and their transformation process.
The process is a constant search, a task involving doing and undoing, a continuous evolution from the initial idea giving rise to the creation of the artwork throughout its development while the materials are crafted. Artists like Ícaro Maiterena, a ceramist, or Carmen M. Castañeda, a visual and textile artist, focus their creative process on the very 'action' as it unfolds.
"Wedging is a generating centre of my creative process. A core found in the actions bringing together water and clay, sweetness and solidity, in the intimate and haptic reverie with the ceramic mass. Wedging is a like a ritual gesture, the tactile styling of a potter, a vital action brimming with rhythm. A rhythm that permeates the entire body, a rhythm that is concurrent with breathing".
         Ícaro Maiterena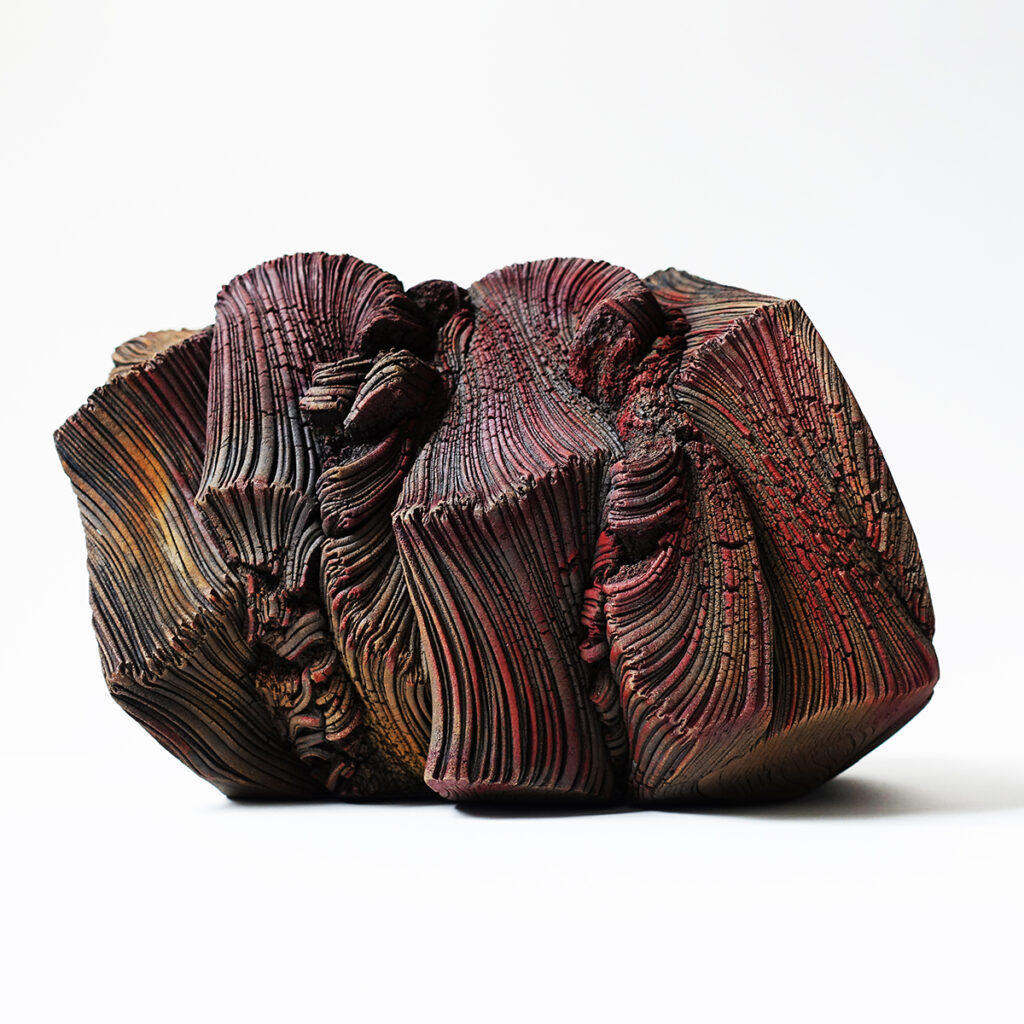 Ícaro Maiterena. Transmutación Fósil, 2020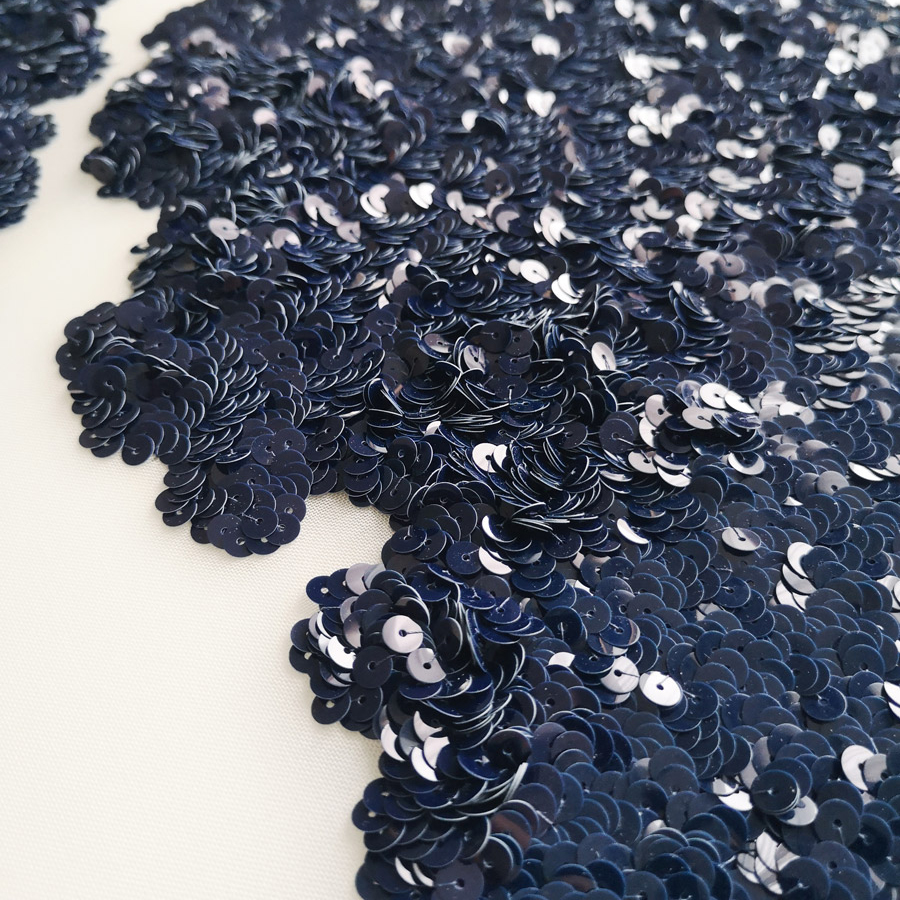 Carmen M. Castañeda. Chrôma IV, 2020

Carmen M. Castañeda, a specialist in hand embroidery of Haute Couture, voices her artistic expression through this field. Embroidery is understood as the object for experimentation. From a conceptual viewpoint, her work is characterised by the gesture of the needle, puncturing the stillness of the canvas.
(Materials)
What materials convey is not only found in physical qualities. Other aspects are their cultural, social, and political contents. Expressive qualities are disclosed though texture, colour, smell, temperature, density, or appearance, and by what materials reveal in respect of the location, our history or time.
Tim Johnson and Elena Moreno start their creative process by gathering materials from the natural environment. Their work is intimately related to the cycles of nature and the creatures inhabiting its settings. The cadences of sowing, irrigating, harvesting… Or – otherwise put – birth, life, and death. The result are works comprising fragments, kindred pieces put together, intertwined, and superimposed to create a variety of structures.
 «In short, properties of materials are not attributes. Instead, they are stories.»
                                                                                                                                       Tim Ingold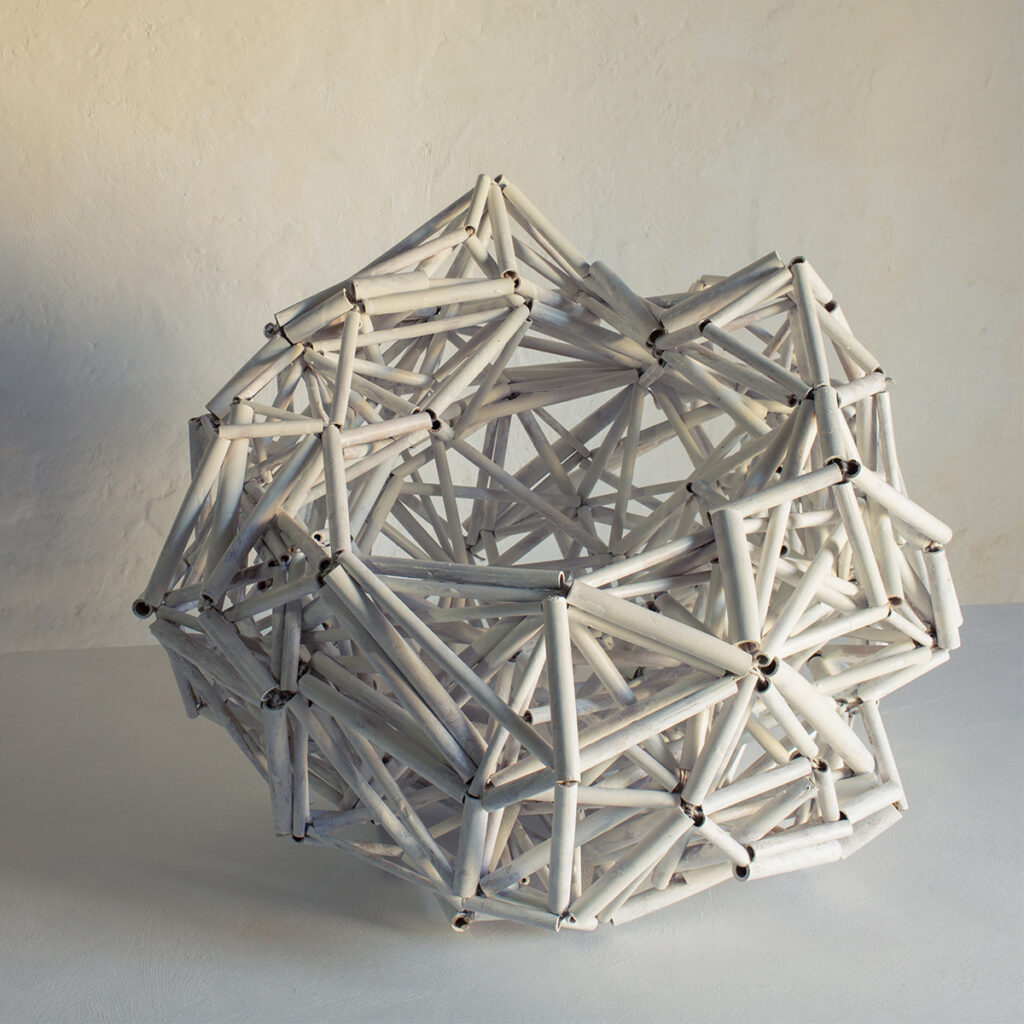 Tim Johnson. White Lattice Vessel, 2020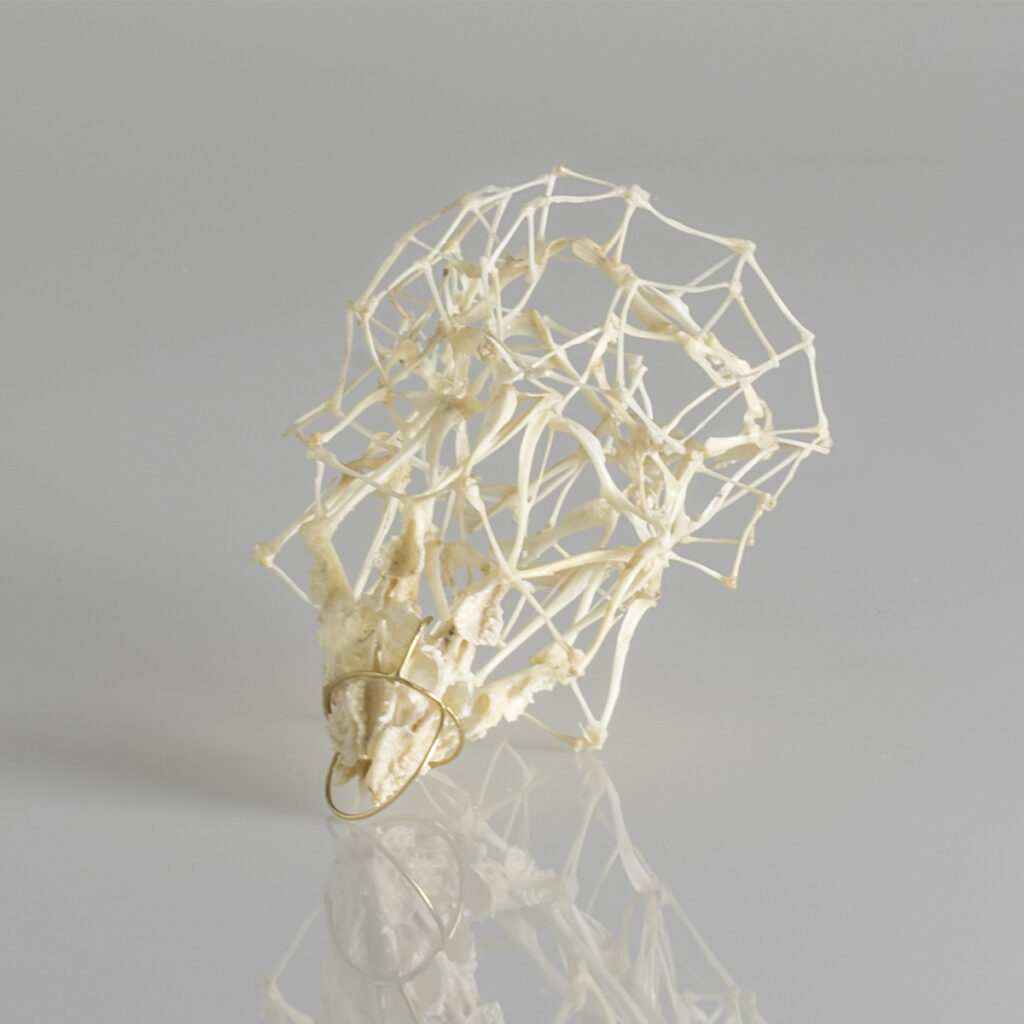 Elena Moreno. SINDIGERIR 08, 2017

Knowledge of craft techniques and revisiting them to find new languages and appliances means that traditions can be kept alive, whilst at the same time contributing to their evolution and assuring their continuity..
An example is the work of Irene G. Barrera who uses the materials and techniques of basket-making in a vastly different area: jewellery. In her work, natural fibres are intertwined and mixed with other materials, endowing them with a whole new form of expression.
"Basket-making is an area where the phrase 'hand-made' is most veritably true. The hands directly craft materials to weave them together, model them or to build things, with no intervention of tools or other utensils."
Carlos Fontales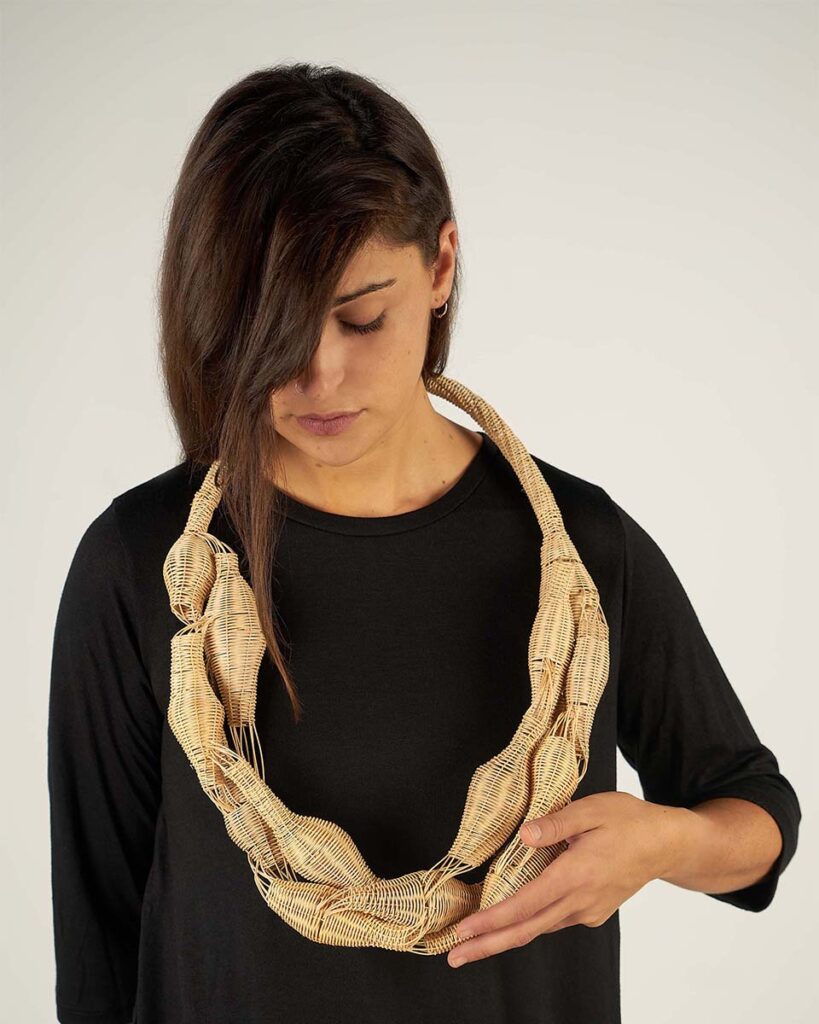 Irene G. Barrera. Sin título, 2016
(Experimentation)
The jeweller Edu Tarín reflects on what it means to be a craftsman in the 21st century. He works to adapt a concept as ancient as stone carving to contemporaneity, investigating processes, and incorporating new technologies as a further tool for creation. His work seeks to produce culturally significant jewellery, in keeping with the times.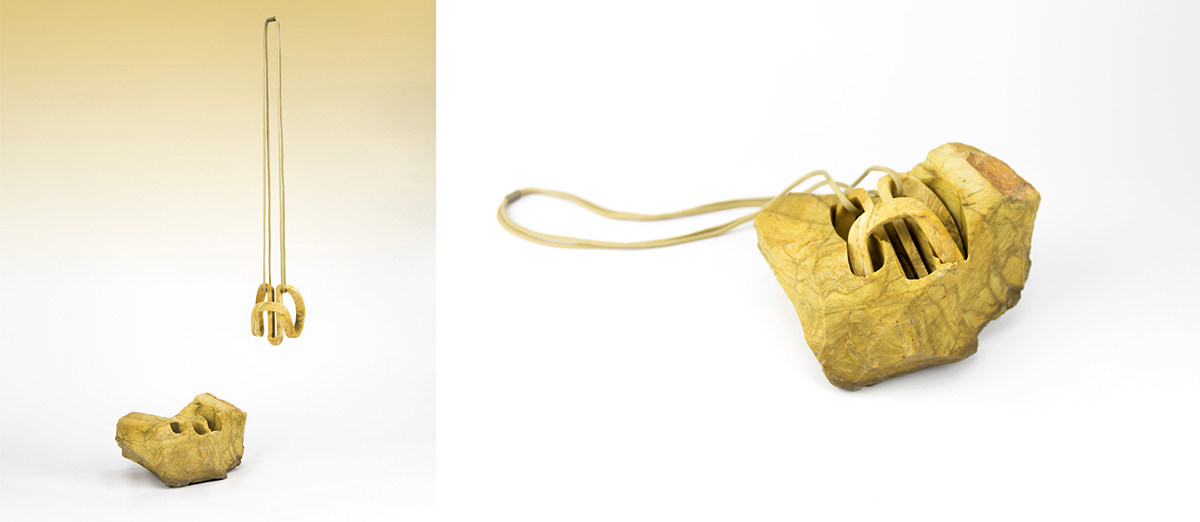 Randomly experimenting with the silica components of ceramics and glass and finding balance points between their compounds, without attempting to control the result and, instead, letting things flow, is the focus of the artist Rebeca Huerta in her most recent works.
"Her artworks run the gamut, ranging from the opacity of glass paste, the earthy and rough textures of molten frits in moulds, to the transparency and the inner light of molten glass, following the most elegant Czech traditions."                         María Luisa Martínez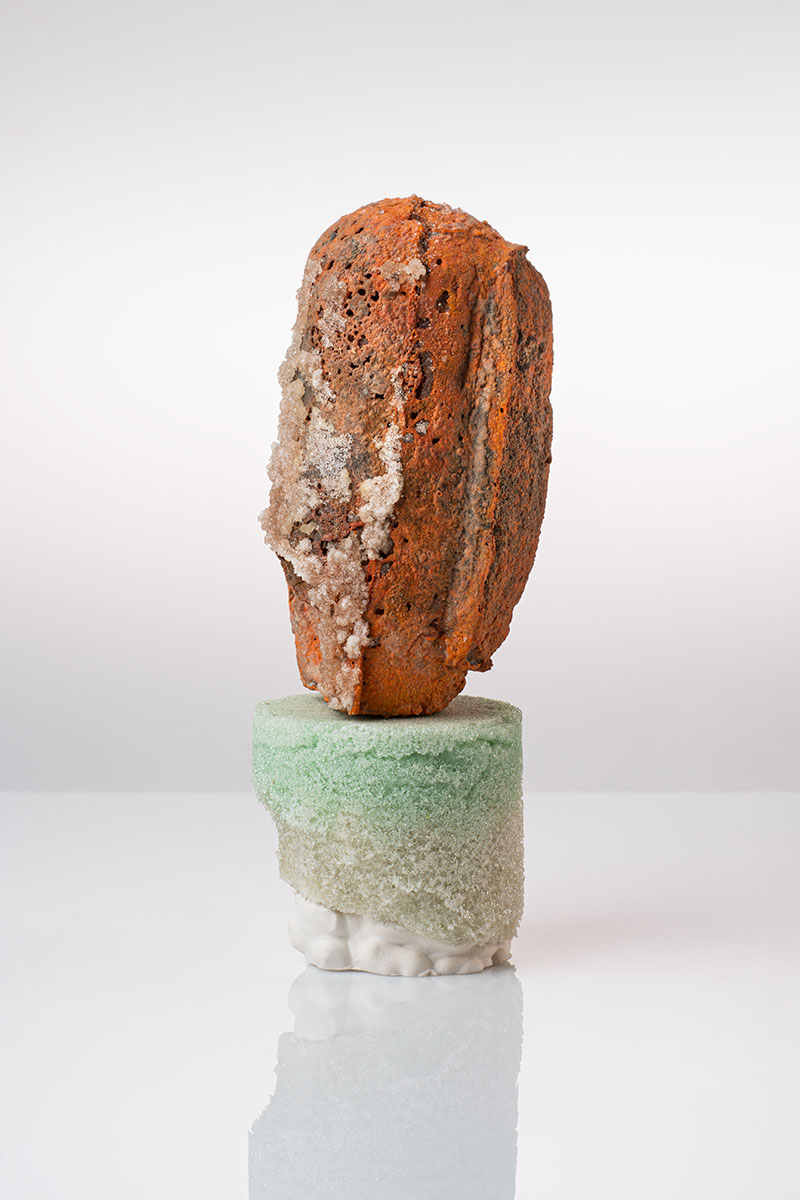 Rebeca Huerta. Deconstrucción solar del Ser – Devitrificación 1
Soledad Santisteban and Mercedes Vicente are two artist-craftswomen driving the qualities of textile materials to their limits, in a quest for the new expressions that they can yield. The first artist is an expert in conservation and restoration of textile heritage, and she spends part of her time researching traditional techniques to then reinterpret them. Her spheres made of felt – empty containers that look as if they have been created unintentionally – are the product of experimenting with wool and felting techniques.
Meanwhile, the spirals of Mercedes Vicente arise from within and grow, following an order, until a defined, planned form is found, reminiscing elements of nature. Textile materials are treated to endow them with new constructive qualities, constituting the very skeleton of the work.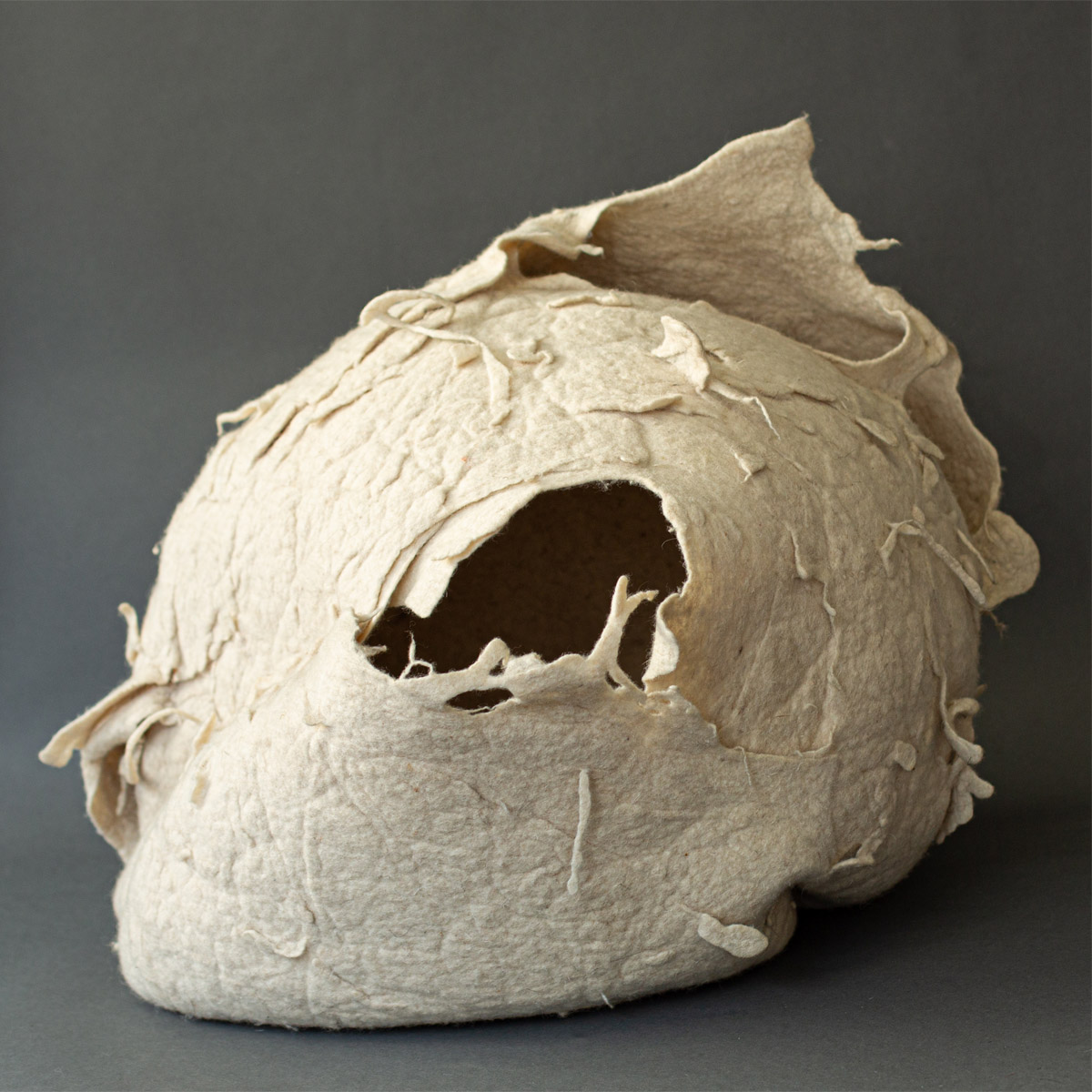 Soledad Santisteban. Esfera blanca abierta, 2015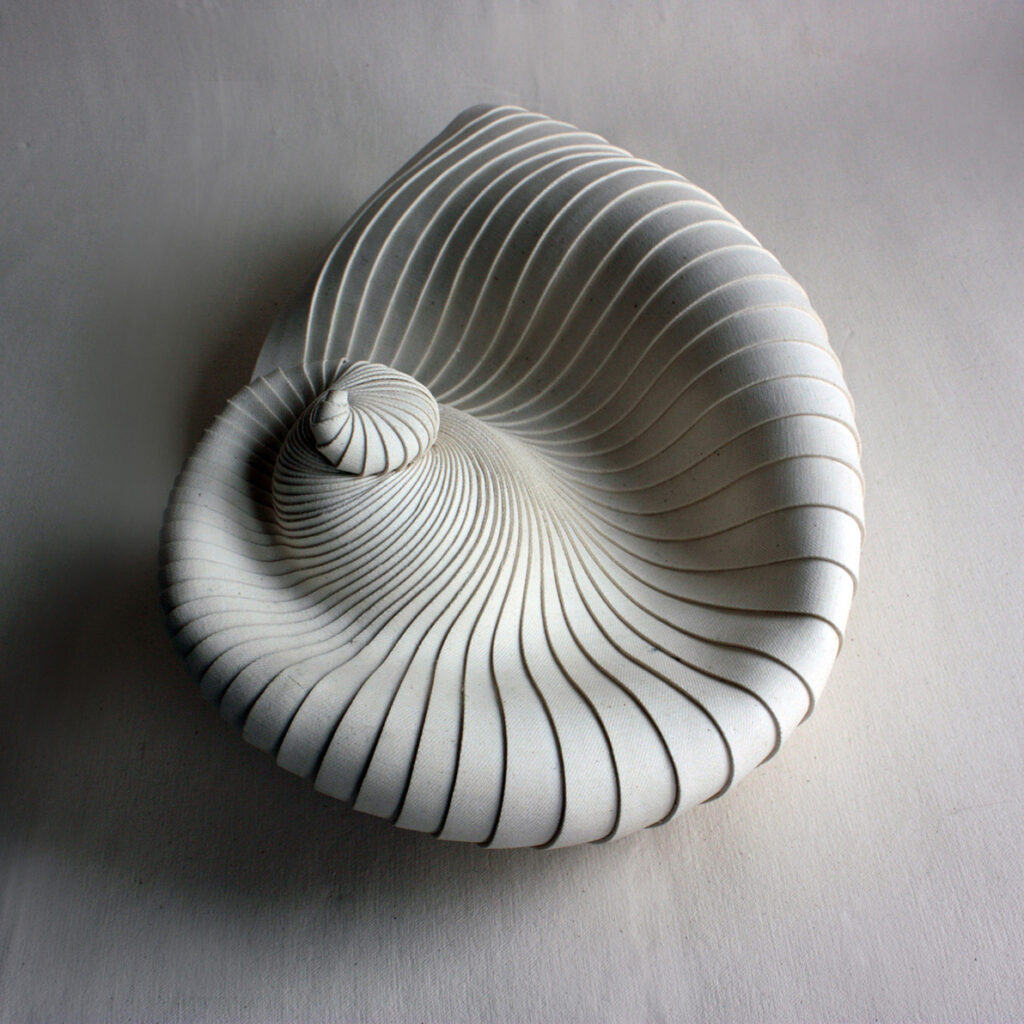 Mercedes Vicente. Dola, 2017

(Memory, time)
Craft employs local materials that are familiar to us. It involves the experience of years of development connecting us to our past, to our memory, and making our relationship with the resulting artwork greater and more durable. It allows us to recover an awareness of time, to pause and think.
Luis Parades, a plastic artist working with glass sculptures, reflects on the memories of locations in his series called "Historias Sumergidas" [Submerged Stories]. His proposal is delicate and suggestive: containers of lost landscapes, dream-like or imaginary worlds, arrested time.
"His technique is complex and hard to master, as this is the difficulty of molten glass in moulds: glass compatibility, incorporating colour with frits and oxides, heat curves from the oven, slow and controlled cooling… Finally, the work is finished with polishing – one of the hardest cold finishing processes – but the one yielding the best results."
María Luisa Martínez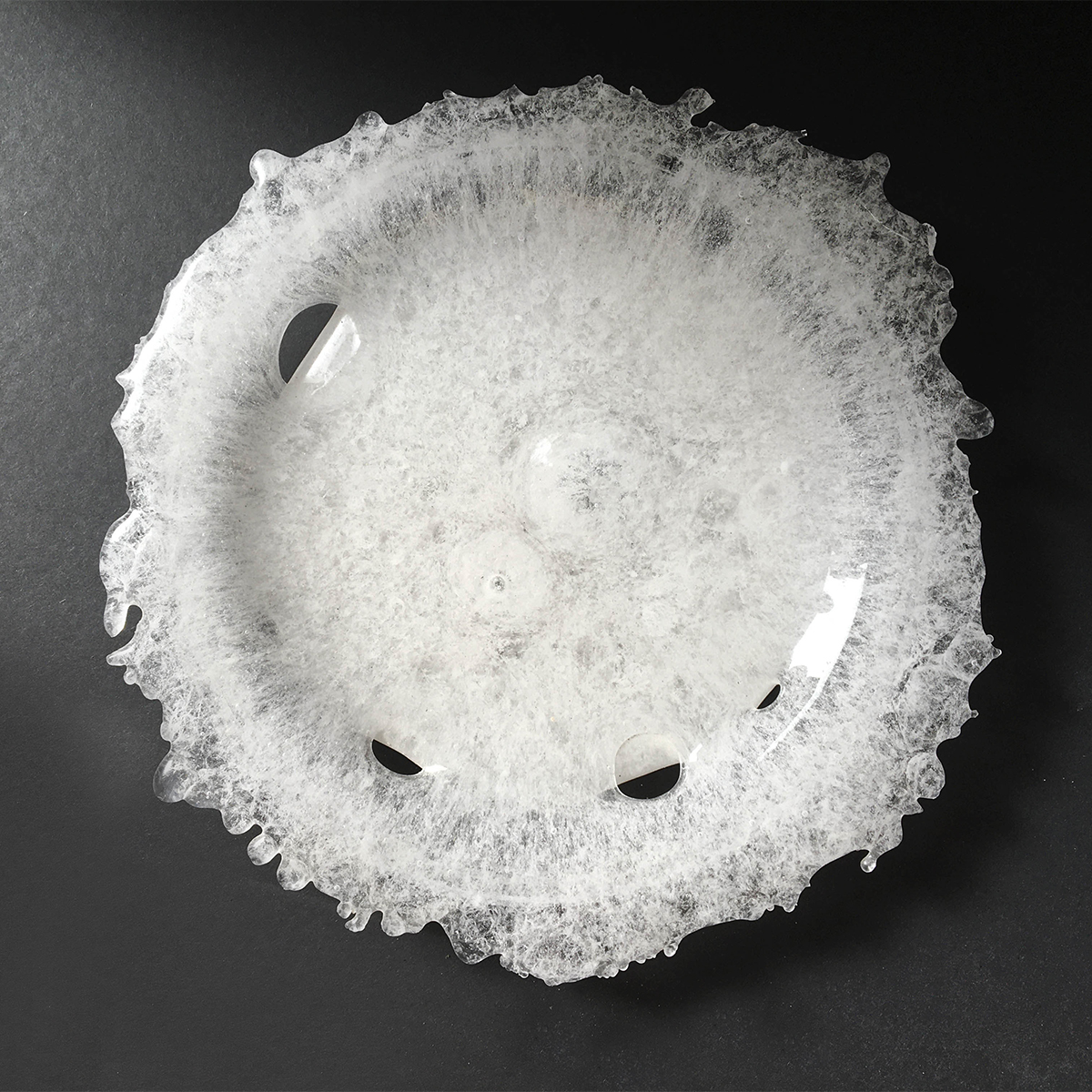 Sandra Moneny. Ofrenda 3, 2003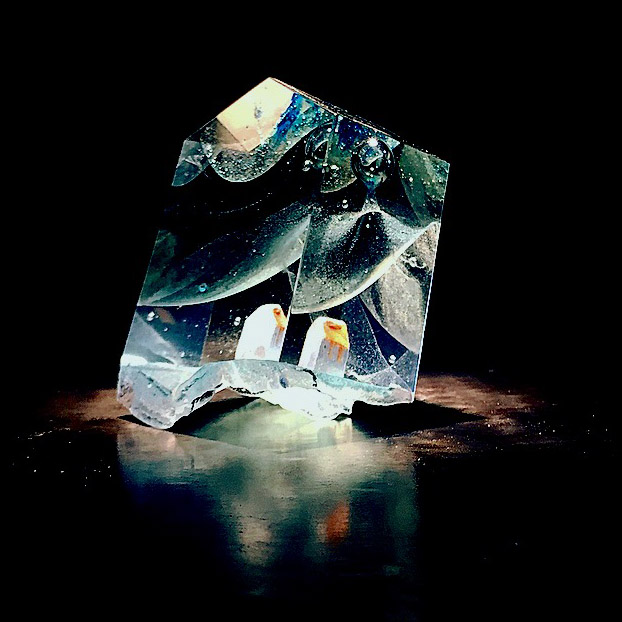 Luis Parades. Historias Sumergidas, 2018

Sandra Moneny looks for the expression of intimacy and vulnerability in glass. In all her works, we find the obsession to breathe life into this artificial material through light and to return to touch, body, presence.
"The fancy of glass plasticity, its haphazard curves and its soft forms, are a joy for the senses."                         María Luisa Martínez
(Everyday objects)
Art, design, and craft nurture one another. They are complementary. Craft relies on art and design to evolve. And art and design find new inroads in craft to convey emotions and cultural, social, and political codes.
The works of Unai Gabilondo often remind us of the structures of furniture. Following the addition of art, sculpture, and craft treatments they take on an own identity. The pieces navigate transversally through sculpture, design, and craft, refusing to be categorised according to standard codes. His creative process is centred on suppressing the borderlines between various fields to allow dialogue to flow among them, and to foster contemplation.
"The works I am presenting in this exhibition share a common procedure, which is almost an accident. They are born from my interest in everyday objects that are noted for their functionality. My work enshrines this function, although it is ineffective. My spoons are useless in kitchens and my lamps do not light up living rooms. But however otiose and fragile they may seem, they are key ingredients in my process, allowing me to reassess the trustiest qualities of objects accompanying us in our daily lives".
Álvaro Aramburu.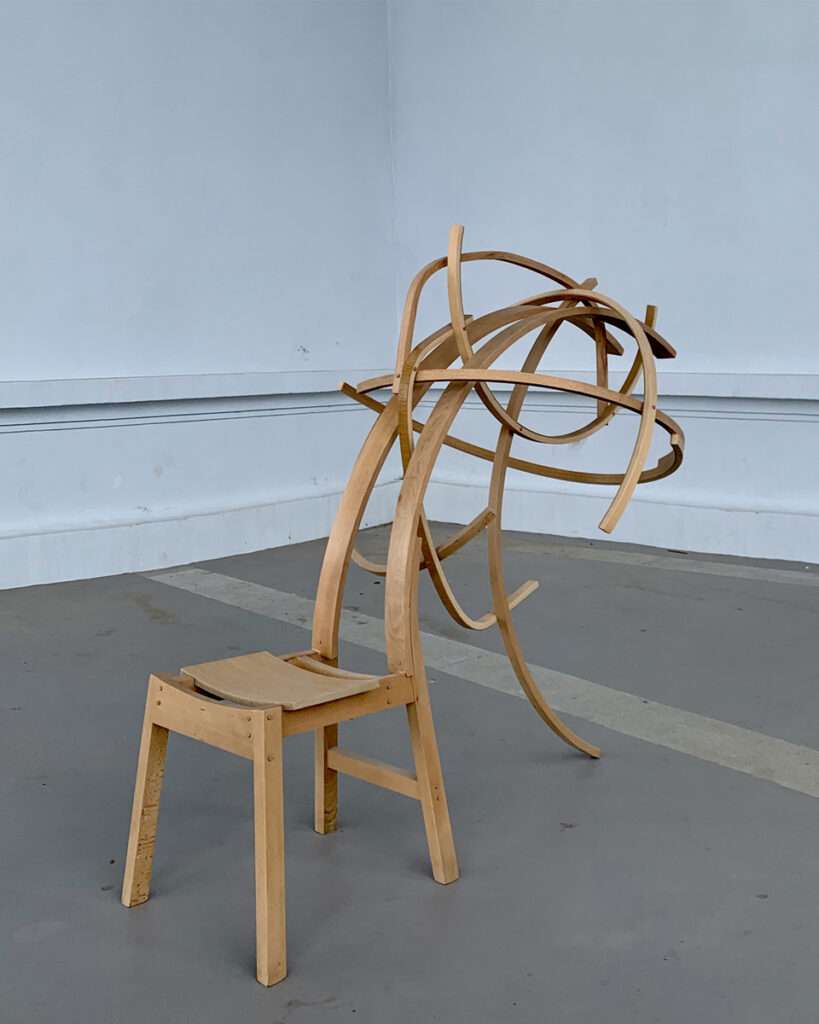 Unai Gabilondo. Silla ?, 2018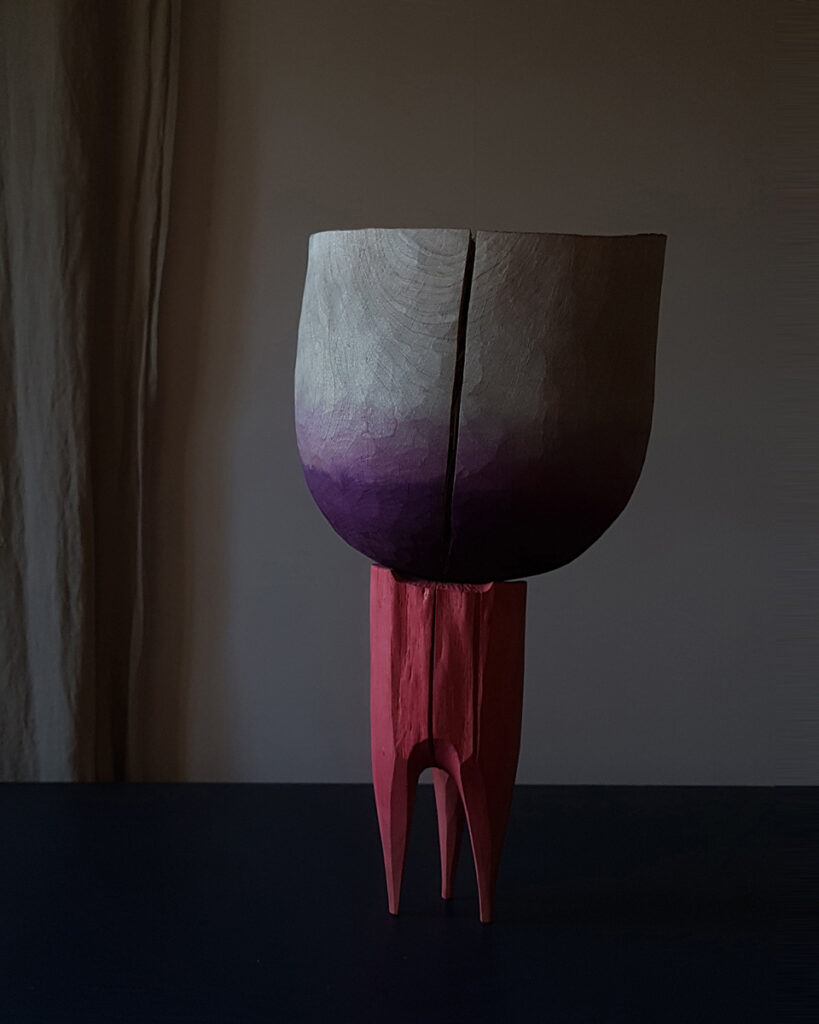 Álvaro Aramburu. Baby on stilts, 2020
The works of ceramist Juan Ortí are also rooted in observation and poetic transformation of surrounding objects. His pieces arise from the research of geometry, simplicity, and the search for essential elements. In his work, the concern for shape takes precedence over other factors such as material or space.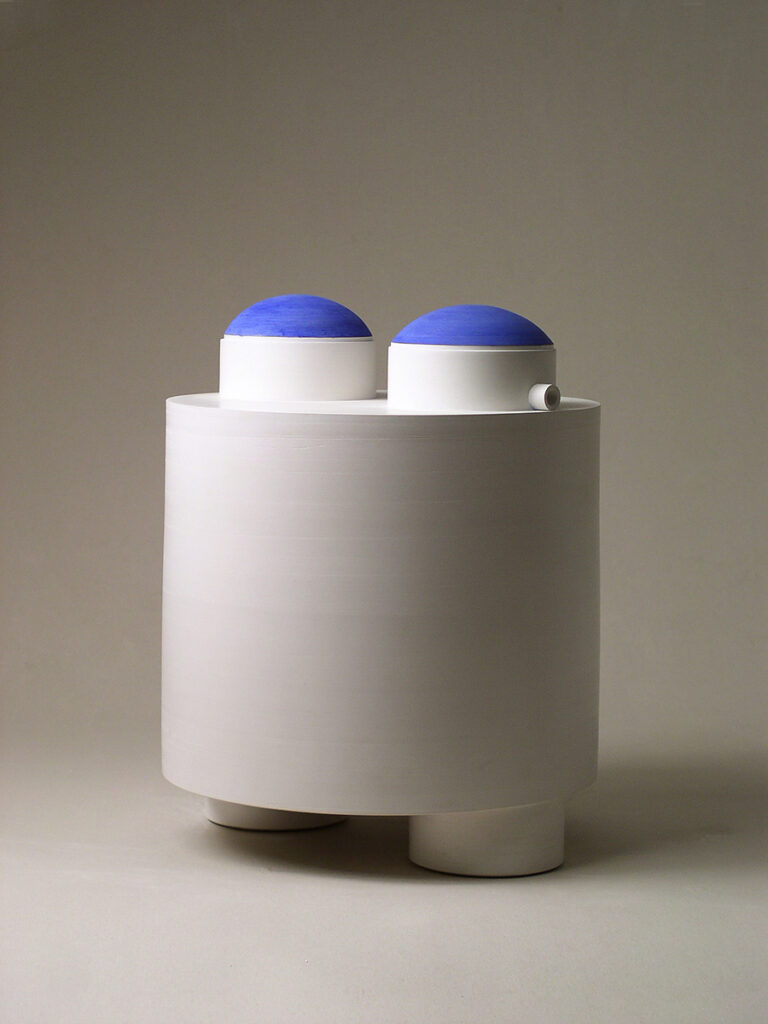 Juan Ortí. Sin título 1, 2007
Works exhibited here are pieces/objects with multiple layers of meaning. All of them contain complex relations between the past and the future, form and function, and traditional and contemporary techniques. These are works which, with a clear vocation for innovation, connect us to our past to help us to understand the world we currently live in better.
We are especially grateful for the collaboration of María Luisa Martínez, Director of the Glass Art Museum of Alcorcón, and of Carlos Fontales, researcher and basket-making master. They have contributed to developing this exhibition thanks to their knowledge in their respective fields. Click on their names to read their full texts.