Juan Ortí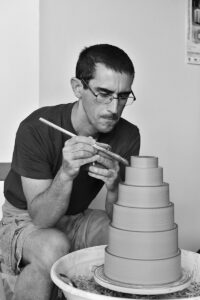 Juan Ortí (La Coruña, 1974) grew up in an artistic environment, though he did not see it as his path in life until later. He studied Industrial Design at Valencia's Arts and Crafts School and it was there, after meeting Enric Mestre (Valencia, 1936), where he started to study Artistic Ceramic and saw art as the field for his professional development. After completing his studies he set up his own atelier in Torrent (Valencia) and since then he combines artistic work with teaching.
Process
My work is very simple: I look for beauty in plain forms trapped in functional constructions and objects. In my work I try to create interesting shapes from turned ceramic cylinders. I am interested in basic forms that have a sense of unity, where there is neither too much nor too little. The reality is that it is impossible to achieve that end and perhaps that is the meaning of my works: the impossible quest for the definitive form.
Click on image for further information.