Álvaro Aramburu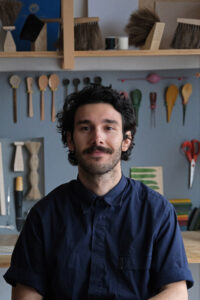 Álvaro Aramburu (Madrid, 1991). After several years' training as an industrial designer in Madrid, my artistic career started far away from the peninsula, in a small town lost in the Swedish forests. There I discovered wood as a medium of expression, distanced myself from industrial products and reinvented my creative process. Since then I design and produce functional and artistic objects, with furniture as the linchpin of my craft. My work has been displayed internationally and is now returning to Spain.
Process
The works on display in "Espacio Intermedio" share a common, almost accidental process. They were born of my interest in everyday elements that stand out for their functionality. My work extols this function, though it does not make it effective. My spoons are useless in the kitchen, and my lamps do not light up the living room. Yet their ineffectiveness and fragility are essential ingredients in my process, allowing me to reassess the most honest qualities of the objects that accompany us in our daily lives.
Click on image for further information.