Carmen M. Castañeda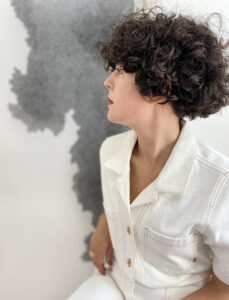 Carmen M. Castañeda (Madrid, 1985) is a visual artist and experimental researcher in embroidery. After studying Fine Arts, it is in Paris at L'École Lesage where she made an in-depth study of the hand-embroidering techniques applied in Haute Couture, a discipline that became the basis for her artistic language within a conceptual and abstract framework.
Her restless personality led her to exhibit in Spain, Portugal, France and England.
In early 2020 she presented her first solo exhibition, 'Línea de tiempos' (Line of Times), in Madrid's Materna y Herencia gallery.
Process
Through an intimate language on 'time' she deconstructs a memory from its highest essence to its near-loss. The seriation of a single embroidered state shows the difficulty of representing an identity on a single canvas.
Her work aims to decontextualize Haute-Couture embroidery by exploring the different artistic languages encompassed between matter and process.
A work marked by the repetition of a single embroidered gesture opposed to today's industrial pace.