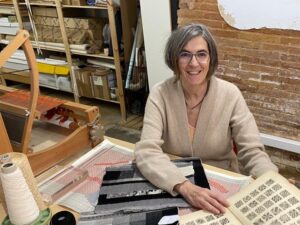 Francesca Piñol (Puigverd de Lleida, Lérida, 1959).  After graduating in Anthropology from the University of Barcelona, it was her interest in textiles that led her to undertake postgraduate studies in Textile Design at the Polytechnic University of Catalonia. Since 1991 she has been a member of the FAD (Fomento de Arte y Diseño) group of artists in Barcelona.
She combines artistic-textile creation with research and teaching, teaching Textile Art at the Escola Massana in Barcelona since 1999. In 2000 she was awarded the title of Master Craftsman as a "Weaver" by the Catalan Centre of Crafts of the Generalitat de Catalunya.  Her projects include works from the residencies Contextile, (Guimaraes, Portugal in 2012) and Arctic Circle (Svalbard, Norway in 2015). It is also worth mentioning the series The fabric of Thoughts created from the dialogue between art and Neuroscience, with which she won an honourable mention in the international competition Art of Neuroscience 2018.
Process
Her work is driven by a fascination for weaving, for the interweaving and combination of the different threads, colours, shapes and symbols that compose it and that are the expression of the different worldviews of the world. Fabrics made up of threads that intertwine and construct a textile discourse that explains the thread of life.
Although she uses different techniques, weaving is the most common. It is made on a TCII digital hand-loom which incorporates Jacquard digital technology. It is characterised by the combination of different textures and by the use of colour obtained from natural dyeing with materials from the environment, which provide a variety of finishes and colours.