Mariona Cañadas y Pedro Murúa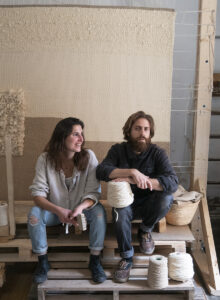 The artists Mariona Cañadas (Barcelona, 1991) and Pedro Murúa (Santiago de Chile, 1991) investigate the possibilities of textile and sculptural language in the field of contemporary visual arts. They met while studying textile arts in Barcelona, and have since continued their journey together. They have spent several periods living in France and Denmark, learning diverse textile techniques, as well as participating in several artistic residencies that have allowed them to get to know and work with different materials and craft processes.
Process
Our creative process is based on the investigation of the expressive possibilities of a material. This material is usually of natural origin or collected from a specific territory, taking into account its transformation process as a source of expression in itself. We believe that materials have the capacity to sensitise and connect us with a territory and a way of making.
Furthermore, working with the low-warp handloom as well as other sculptural techniques leads us to understand the process of creation as a performance itself. The direct contact with the material during the different transitional moments it passes through, such as the path taken by the threads in the assembly of the loom, inspire us and end up being part of the formalisation of our work.
Observing and connecting with a landscape, both interior and exterior, is also part of our practice. It is a way of linking ourselves to the space we walk through and inhabit.