María Oriza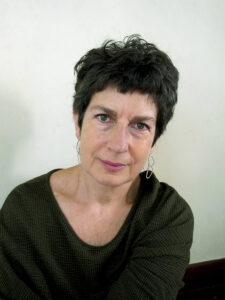 María Oriza (Aranda de Duero, 1964) started her artistic career in the early nineties, and she set up her studio in Madrid. Focusing on abstract sculpture from the outset, she then began to investigate the relationship between volume and surface through drawing with interwoven lines or grids, thereby opening up an immense field of possibilities and creating a personal language. Her work focuses on the production of unique artwork, limited editions, and wall installations.
Process
My creative process starts by studying paper models which appear to have simple forms. The act of cutting, joining, bending, and folding is the spark that sets volume in motion. Almost at the same time, I feel the need to draw the lines that I perceive as arising from the form, which interpret it, and uncover its complexity, embodying its tension and connections, like a skin. The challenge is then transferring the initial idea to a "living" material like clay, which experiences tremendous transformations during its production process.
Click on image for further information.